Description
Looking to bring positive energy and good luck into your life? Look no further than this stylish and versatile Feng Shui Pixiu Ring! Made from high-quality metal, this antique-inspired cocktail ring features an adjustable opening that fits a variety of finger sizes. The Lucky Pixiu Ring is a beautiful and meaningful piece of Buddhist jewelry that brings wealth, good luck, and protection to its wearer. This ring is made of plain silver and features a charming Pixiu charm, which is a mythical creature that represents prosperity and abundance.
With its unique and stylish design, this ring is suitable for both men and women and makes a great gift for any occasion such as an anniversary, graduation, or birthday. The inner diameter of the ring can be adjusted to fit various finger sizes, making it comfortable to wear all day long.
Attract Wealth and Prosperity with The Good Luck Pixiu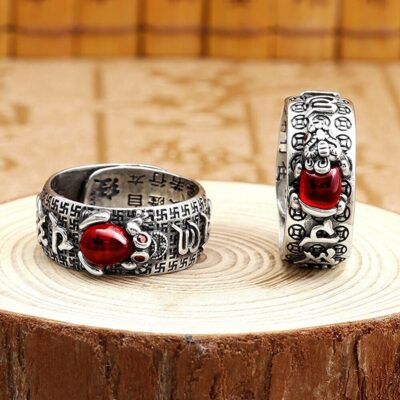 The Adjustable Feng Shui Pixiu Ring Amulet is a powerful tool that can help you attract wealth and prosperity. Pixiu is a Chinese mythical creature known for bringing good luck, abundance, and prosperity to its wearer. This ring is designed with Feng Shui principles to harness the power of the Pixiu, allowing you to benefit from its positive energies. By wearing this ring, you can enhance your wealth and prosperity, allowing you to live a life of abundance and success.
Experience the Magic of Feng Shui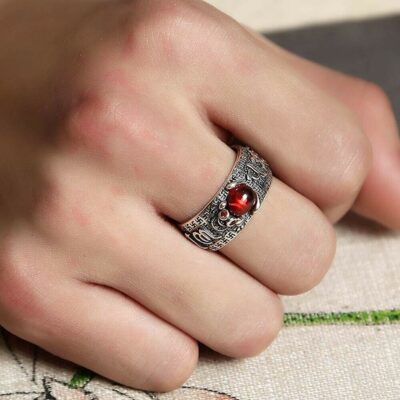 Feng Shui is an ancient Chinese practice that focuses on creating a harmonious balance of energies in your surroundings. The Adjustable Feng Shui Pixiu Ring Amulet is designed with Feng Shui principles in mind, ensuring that it brings positive energies to its wearer. The Pixiu is a powerful symbol of good fortune in Feng Shui, and by wearing this ring, you can experience its magic firsthand. This ring is not just a beautiful piece of jewelry – it is a powerful tool for improving your life and achieving your goals.
Adjustable Ring for Ultimate Comfort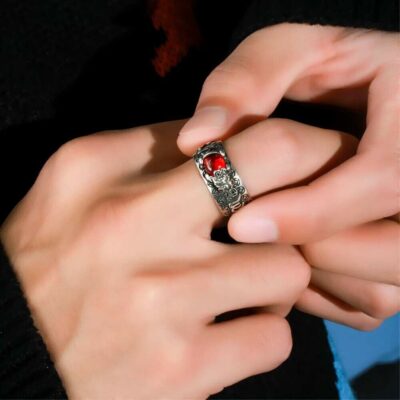 In addition to its powerful symbolism and positive energies, the Adjustable Feng Shui Pixiu Ring Amulet is also designed for ultimate comfort. This ring features an adjustable design, allowing you to customize the fit to your finger for maximum comfort. The ring is also made with high-quality materials, ensuring its durability and longevity. Whether you wear it every day or just for special occasions, this ring is sure to become a beloved part of your jewelry collection.
Read our detailed guide on how to wear a Feng Shio Pixiue ring for wealth.
Specifications
Material: plain silver
Style: Animal, Unisex
Inner diameter: 2-3 cm (adjustable)
Benefits
Good Fortune: Wearing a Feng Shui Pixiu ring Amulet brings good luck and fortune to the wearer.
Attract Wealth: This Feng Shui ring attracts wealth and prosperity to the wearer, helping you achieve financial stability.
Protection Against Negative Energy: The Pixiu Ring ring protects the wearer against negative energy, keeping you safe and secure.
Good Health: Wearing the ring improves health and promotes overall well-being.
Confidence: This ring gives the wearer confidence and boosts your self-esteem, helping you face challenges with ease.
Success: Wearing the Feng Shui Pixiu Ring Amulet brings success in all areas of life, including work, relationships, and personal growth.
Unique Design: The intricate design of the ring makes it a unique piece of jewelry that is sure to stand out and make a statement.
High-Quality Material: The ring is made from high-quality materials, ensuring it is durable and long-lasting.
Easy to Wear: The ring is adjustable, comfortable, and easy to wear, making it suitable for everyday use.
Makes a Great Gift: The Feng Shui Pixiu Ring Amulet makes a great gift for someone special in your life.