White Bodhi Beads Bracelet | Bring Good Fortune and Inner Peace to Your Life
$11.09
Estimated Delivery: Jun 01 – Jun 03
---
Embrace ultimate peace and calm with this bodhi beads bracelet.
Made with natural bodhi seeds, white jade, and lotus beads, this mala bracelet serves as a powerful tool for meditation and spiritual practices.
The bodhi seeds symbolize enlightenment and aid in reaching a deeper understanding of the true nature of things. White jade brings protection and good fortune, while the lotus represents purity, rebirth, and perseverance through tough times.
The Original Design Natural White Bodhi Root Beads Bracelet is a stunning piece of jewelry designed to bring good fortune, protection, and positive energy to its owner. Handcrafted with fine workmanship and an attractive appearance, this beautiful bracelet is the perfect gift for friends and loved ones.
Bodhi Seeds Meaning
White Bodhi beads are not just another accessory, but they carry a deep spiritual meaning. These beads come from the Bodhi tree, which is also known as the "tree of enlightenment" and is considered sacred in Buddhism. Bodhi beads are believed to hold special powers that can help in spiritual healing, meditation, and mindfulness.
The white color of these beads symbolizes purity, clarity, and peace, and is said to have a calming effect on the mind and body. When used in meditation, Bodhi beads can help to improve focus, increase spiritual awareness, and promote a sense of inner peace and tranquility.
In addition to their spiritual significance, Bodhi beads are also admired for their natural beauty and unique texture. Each bead is one-of-a-kind, with its own distinct shape, size, and pattern, making them a truly special and meaningful piece of jewelry.
Whether you're a seasoned practitioner or a beginner, incorporating white Bodhi beads into your spiritual practice can help to deepen your connection with the universe and bring more balance, harmony, and serenity into your life.
Unique Design and Symbolism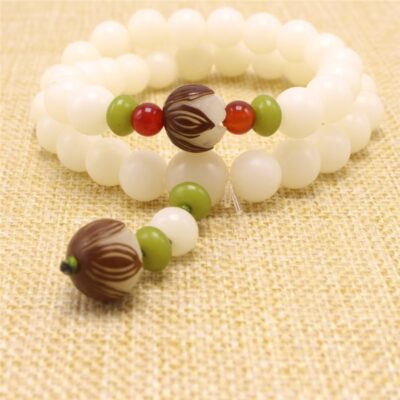 The Original Design Natural White Bodhi Root Beads Bracelet is more than just a piece of jewelry. The lotus and bead bracelet design is rich in symbolism, representing purity, enlightenment, and the pursuit of inner peace. The white Bodhi root beads used in this bracelet are believed to bring good fortune and protection to their owner. The lotus flower symbolizes rebirth, enlightenment, and spiritual awakening. With this bracelet, you'll not only be accessorizing, but you'll also be carrying a powerful symbol of positivity with you.
Versatility
This bracelet is the perfect accessory for any occasion. Whether you're going on vacation, celebrating the holidays, attending a party, or just shopping, this bracelet will complement your outfit and enhance your overall look. It can be worn by both women and men of any age, and it can be folded into three or four layers of bracelets, depending on your wrist size.
Perfect Gift Idea
Jewelry is always the perfect gift, and the bodhi beads bracelet is no exception. It's a sweet and thoughtful gift idea for the one you love, whether it's a birthday, holiday, special occasion, or just because. It's also an ideal purchase for Christmas, Hannukah, Thanksgiving, Mother's Day, Valentine's Day, and birthday gifts for her, or your bridesmaids. This beautiful hand chain is an elegant and timeless gift that's sure to bring a smile to your loved one's face.
Quality and Craftsmanship
Crafted with the finest materials and attention to detail, the bodhi beads bracelet is a high-quality piece of jewelry that's built to last. The beads are made of acrylic, which is a durable and long-lasting material. The clasp type is none, making it easy to put on and take off. The bracelet is trendy and fashionable, designed to represent you and your unique style.
White Bodhi Beads Bracelet Benefits
The Bodhi tree is a sacred tree for Buddhists as it is believed that Gautama Buddha attained enlightenment while meditating under it. The white Bodhi beads from the Bodhi tree are highly valued for their spiritual and healing properties. The Bodhi beads have a smooth texture and a natural white color that symbolizes purity and spiritual enlightenment. Here are some of the benefits of wearing a white Bodhi beads bracelet:
1. Promotes Calmness and Inner Peace
White Bodhi beads are believed to have calming properties that can help alleviate stress and anxiety. When you wear a white Bodhi beads bracelet, you can feel a sense of inner peace and calmness.
2. Enhances Concentration and Focus
The white Bodhi beads are used by Buddhists for meditation as it helps enhance concentration and focus. By wearing a white Bodhi beads bracelet, you can improve your mental clarity and increase your productivity.
3. Provides Protection and Good Fortune
It is believed that wearing a white Bodhi beads bracelet can offer protection and bring good fortune to the wearer. The white Bodhi beads are said to ward off negative energy and protect the wearer from harm.
4. Balances the Chakras
The white Bodhi beads are known to help balance the chakras and align the energy centers in the body. By wearing a white Bodhi beads bracelet, you can restore the balance of energy in your body, which can have a positive impact on your physical and emotional well-being.
5. Improves Spiritual Growth
Wearing a white Bodhi beads bracelet can help you connect with your spiritual self and promote spiritual growth. The white Bodhi beads are believed to have a high vibration that can help elevate your consciousness and deepen your spiritual practice.
Wearing a white Bodhi beads bracelet can have numerous benefits for your physical, emotional, and spiritual well-being. The smooth texture and natural color of the beads make it a stylish accessory that can be worn on any occasion while also providing spiritual and healing benefits.